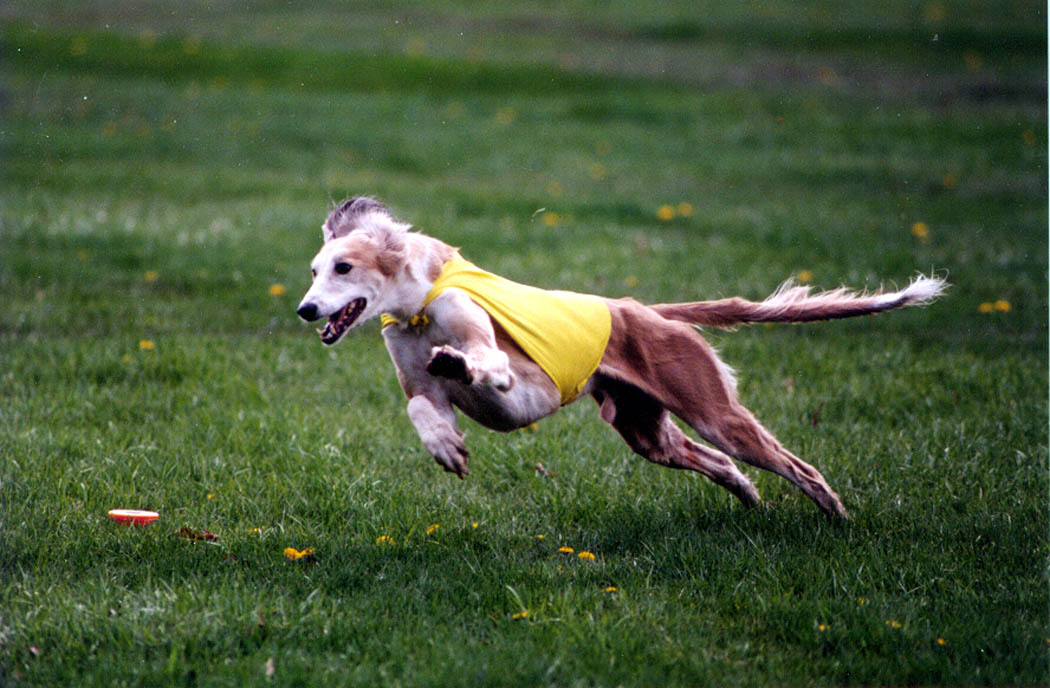 This is Zahrah's daddy Brando: FC Celeres Firebrand of Aerie SC LCMVII. Brando is the #1
ASFA
Saluki dog of all time. An incredible hound, Brando amassed an incredible lure coursing record. Even running as an 11 year old, Brando's speed, agility and style impressed and amazed his friends, family, fans and admirers.
We thank Brando everyday for the gifts he gave to Zahrah...and the gift he gave to us!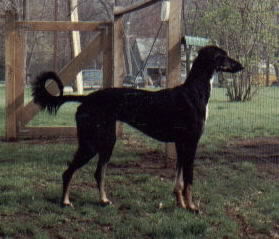 This is Cimmarron Paharia Royale, at the youthful, curvy and sprightly age of eight months.

Paharia, a very dark tri with a nearly all-black face when a youngster, is the dam to Zahrah and her littermates. She definitely gave Zahrah her silliness and sense of humor, along with an amazing outline. Paharia suffered an injury at an early age, so was not shown.
The 1997 Pyramid Cup. This is a treasured "family" shot: Brando (Zahrah's sire), Pookie (Zahrah's half-sister) and Zahrah. This was taken after Zahrah's first lure trial, at the Saluki Club of America National Specialty. Brando won the cup. Pookie placed 2nd in her stake. Zahrah took first in Single stake, over 15 other Salukis! This was my first terrific "Zahrah Moment"...never to be forgotten.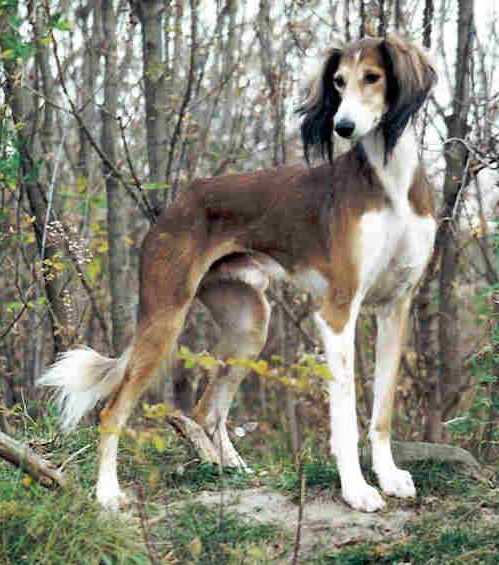 Meet Zahrah's handsome litterbrother Rumor: SBIS Ch Shahanshah Somthn T'Talkabout JC. Ru is very dear to us. Amy and Dusty met Ru when he was an eight-week-old baby boy, at a lure coursing trial in Metamora MI. At the time, they certainly didn't know Ru and his "dad" Kevin Carlson would become our very good friends. They definitely didn't know Rumor's sister Zahrah would storm into their lives one day! Ru and Kevin were there when Zahrah entered her first dog show, receiving a four-point major. Ru and Kevin made sure Amy didn't have a nervous breakdown at that show! Kevin has handled Zahrah at out-of-town shows Amy couldn't attend, and did a beautiful job with 'Rah! Thank you, "Uncle" Kevin and Ru for being so good to ALL of us, Dusty included! 'Click' Ru to visit his site.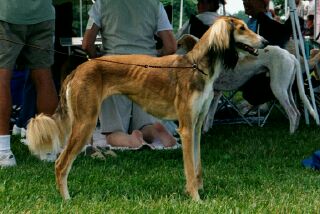 Meet Doozer: Ch Aeolus' Dancing With Perfection FCh! She's Rumor's daughter out of the beautiful chocolate ChaCha: Ch Dadaelis Ra' She's A Chawk. We first met Doozer when she was a tiny one-day old...of course, she wasn't "Doozer" yet! Doozer finished her championship at the sprightly age of 14 months -- same as daddy Ru! We are very proud of our not-so-little niece. Doozer is a lot of fun, and one of the coolest Salukis we know! 'Click' Doozer for more.
The love of creature comforts and the constant need to remind us of their Salukiness must run in the family. This fair maiden is Dusty's littersister Amiirah, Darrinna Aajiq Amiirah, who lives on the east side of the state with her mom (and our friend) Michelle.

Amiirah died on Valentine's Day, 2005, six days after her 15th birthday. She is greatly loved and dearly missed.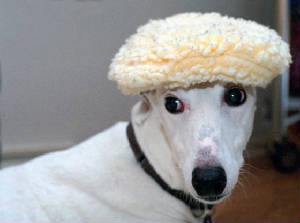 This is Schuyler, who is practically family. She calls me Aunt Mom, after all! Casper when she was on the track, she became Schuyler (and apparently a princess) when she went to live with my sister and brother-in-law, Patty and
Jef Mallett
. She is made to suffer the paws and whiskers of four cats, but other than that, she does all right. Schuyler remained a silly puppy at heart, until her death at 15+. We adore her.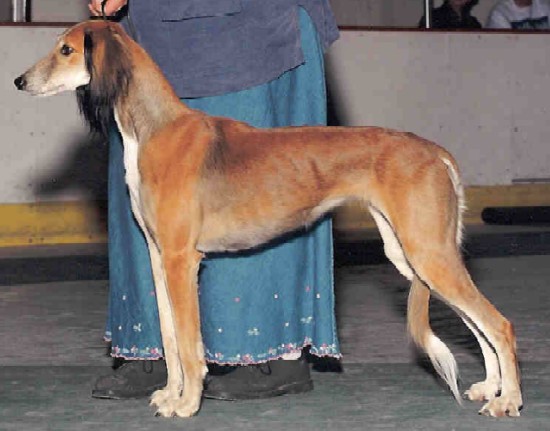 Here is Zahrah's littersister Zarifa: Ch. Shahanshah Brilliant Disguise. Zarifa had a great time in Milwaukee, playing with Rumor and Doozer and Kevin and Dawn...and acquiring her AKC title! Zarifa is now the fifth champion littermate. She is the lovely girl who heard "Is she related to Zahrah?" many times at the SCOA Eastern Regional. "Little Z" lives with her co-breeder, Sara Drake.