And the next generation takes to the ring
All "Z Babies" welcome!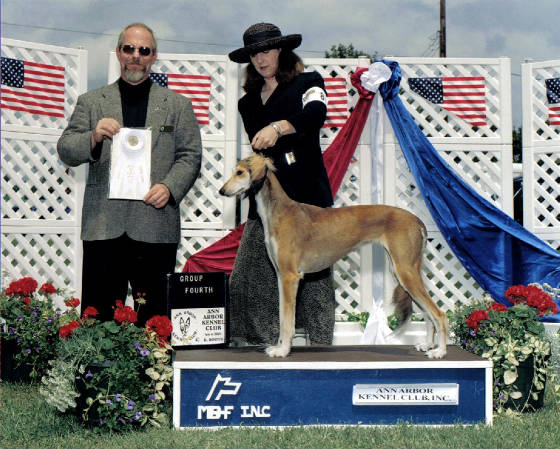 It's the Fourth of July...and the little red firecracker is having a BLAST!
Zafirah, Best of Breed from the Bred by Exhibitor class, went on to a Group 4.
Thank you, breeder-judge Garry Newton, Solari salukis, for our exciting day.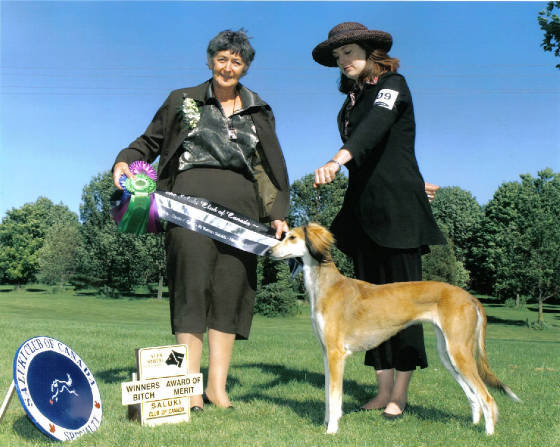 Oh, Canada! (Or, more accurately, the Saluki Club of Canada Eastern Regional Specialty.)
Zafirah is Winners Bitch from Bred By Exhibitor for five points toward her Canadian championship.
This was Zafirah's first trip "across the river."
Zafirah was also graced with the sole Award of Merit offered at this show.
Thank you, Carole Tipler, Al Yaman salukis, New Zealand. We are very honored.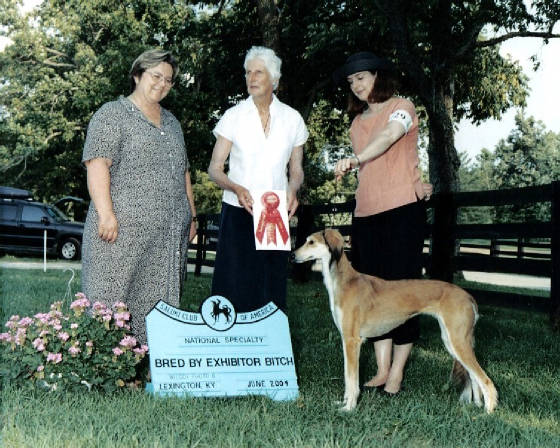 Zafirah is awarded 2nd place in Bred By Exhibitor at the Saluki Club of America National Specialty.
There were 46 entires in this strong class.
Thank you, breeder-judge Rosemary Lewis, Knightellington salukis, England, for the honor.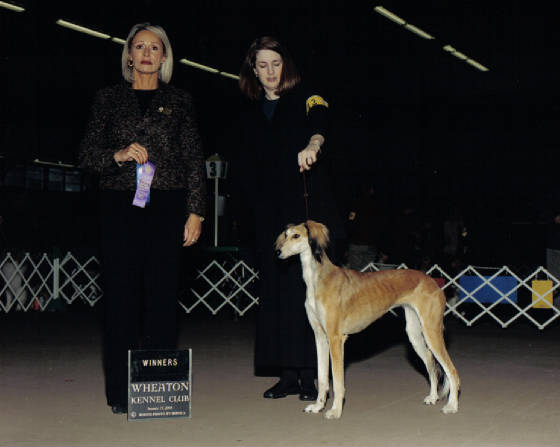 More points for Zafirah, who was awarded Winners Bitch at the Wheaton KC show.
We thank breeder-judge Jacqueline Harrington, Jatara salukis, for this honor.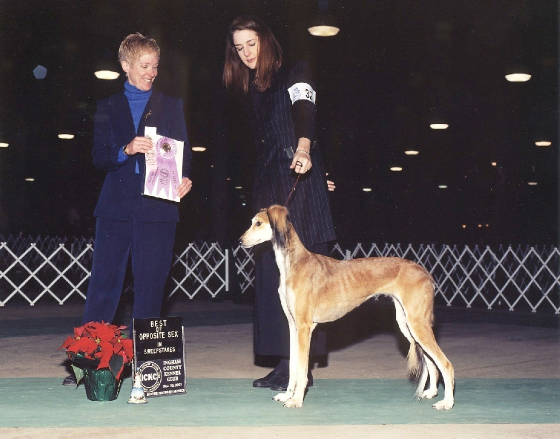 Zafirah is Best of Opposite Sex in Sweepstakes at the Ingham County KC show.
Thank you, Deborah Hughes, Leelanau Scottish deerhounds, for this proud placement.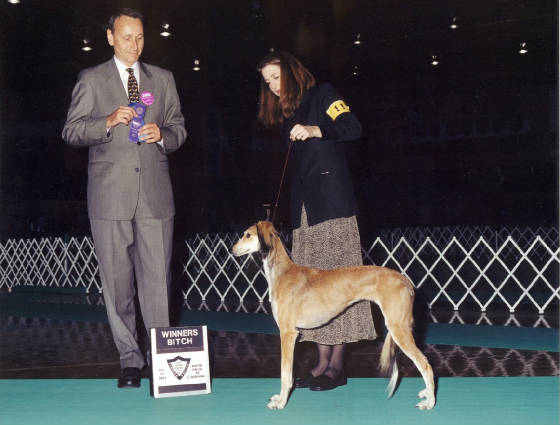 Zafirah is Winners Bitch at the Lakeshore Kennel Club show.
We thank breeder-judge David R. Miller, Shandell salukis, for awarding Zafirah's quality.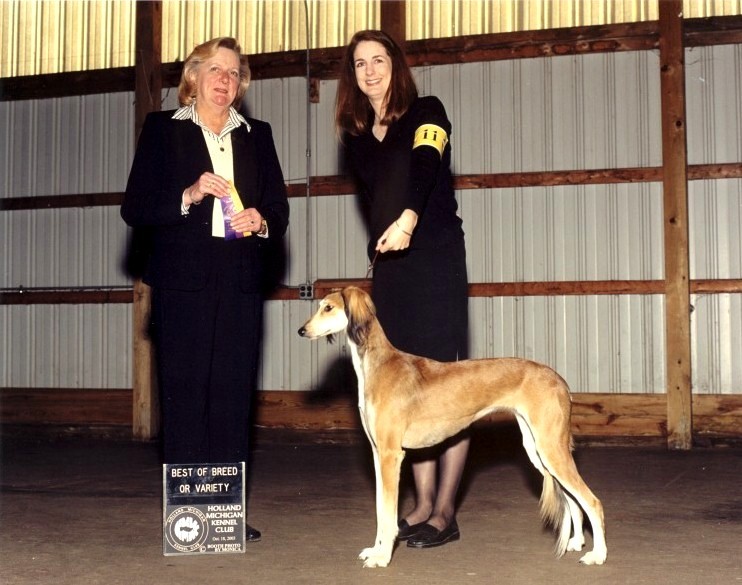 Zafirah's first points, earned in style by going Best of Breed at the Holland Kennel Club show.
Thank you, judge Sari Brewster Tietjen. We are honored.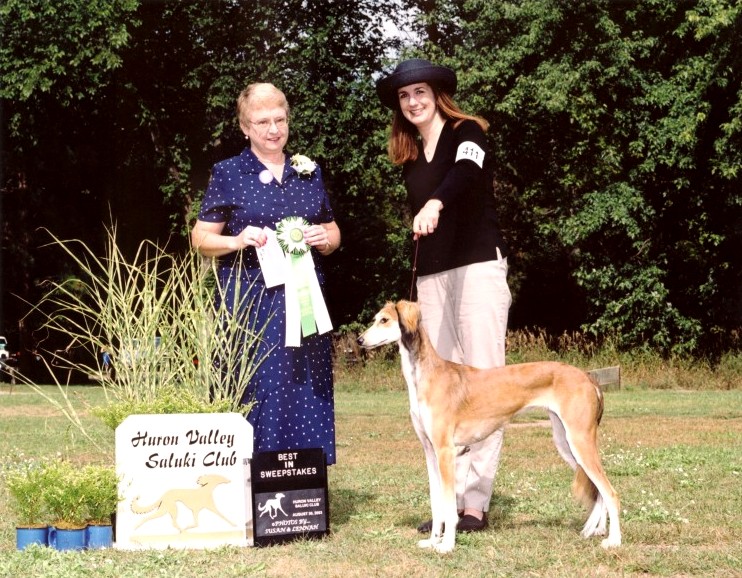 "A beautiful, typey red bitch with superb muscling and wonderful tuck-up.
She moved fluidly and was absolutely sound." - Jan Flaningan, Aspen salukis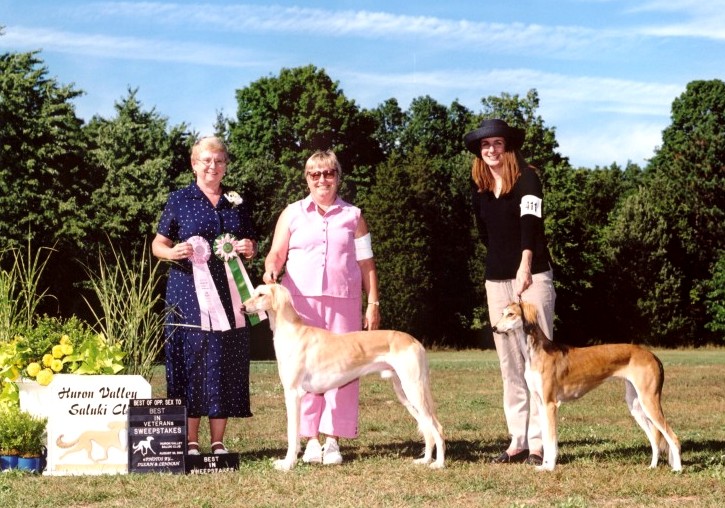 Ch. Shalom's Burst of Speed (Boss), Best of Opposite Sex, Veteran Sweepstakes
Amala Zafirah, Best in Specialty Sweepstakes
Huron Valley Saluki Club
Thank you, Jan Flaningan, Aspen salukis, for this lovely father/daughter honor!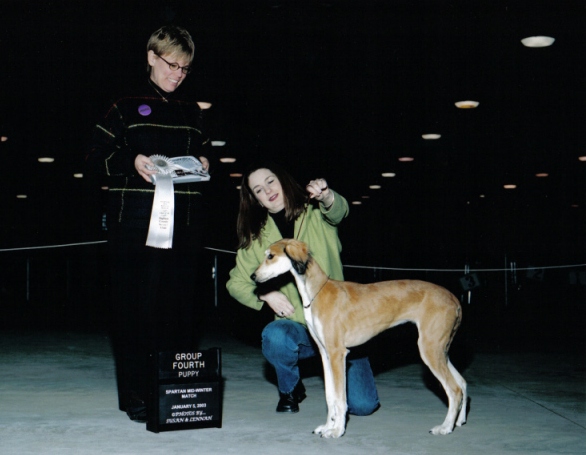 Zafirah received her first group placement, 4th, at the 2003 Spartan Mid-Winter Match.
Admiring Zafirah is Rae Ann Hanna, Clarinda salukis.
We are forever delighted by this award!