Scenes from the 2006 SCOA National Specialty
and the beautiful Kentucky Horse Park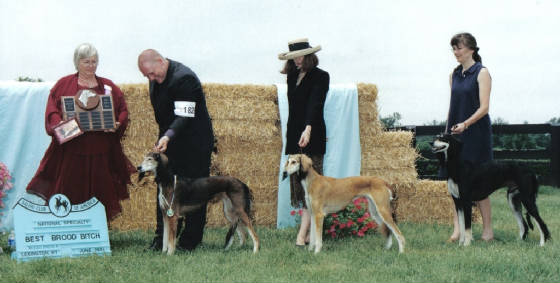 Multi. Nat'l. Select CH Shahanshah Invisible Touch, CGC, JC -- the glorious Zahrah -- is awarded
Best Brood Bitch from a large and lovely field of competitors. Accompanied by CH Amala Zafirah
and Winners Dog Amala Zayn, Zahrah was one of the two oldest ladies in the ring. The other was
her littersister Carly, Multi. Nat'l. Select CH Shahanshah Touched By the Sun, who was awarded
4th place.
The Brood Bitch class winner is honored through a trophy plaque honoring CH Jefreh Val Malik,
molded from artwork by Esther Bliss Knapp.
Zahrah is shown here by Kevin S. Carlson. Zafirah is always handled by Amy L Charles. Zayn is
shown here by Jean Kadel, Zahrah's breeder.
Thank you, Monica Stoner, Sacre Tyana, for this grand honor!
Amala Zayn is awarded Winners Dog, from the Bred by Exhibitor class, for a 5-point specialty
major, his second one. The quality of dogs was quite high, with a most impressive BBE class!
Zayn is a contender for the AKC's Bred by Exhibitor medallion.
Zayn was also honored as Best Bred by Exhibitor, receiving the Esther Bliss Knapp trophy.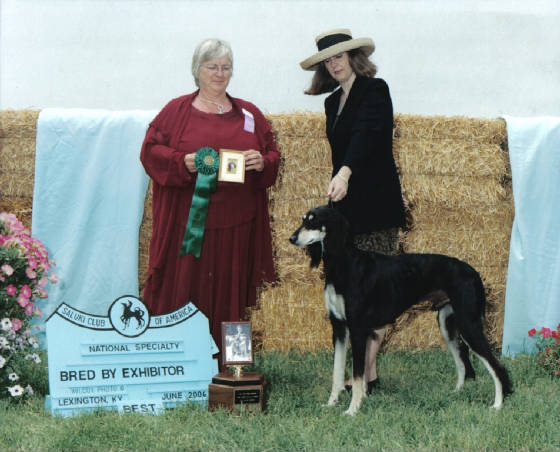 Each visit familiar, each visit different...