The Future of AMALA is here!
Anticipation filled the air with the announcement that Zahrah was bred to Boss: Ch. Shalom's Burst of Speed LCM. Due to a severe injury incurred by Zahrah on Labor Day, the breeding was postponed until May 2002. We expect wonderful things for
the Z litter, the legacy of fine open field and lure coursing stock from illustrious old American lines. We're very excited for the youngsters from our two sound, moderate, curvaceous, athletic salukis! These beauties were born Sunday, July 21, 2002.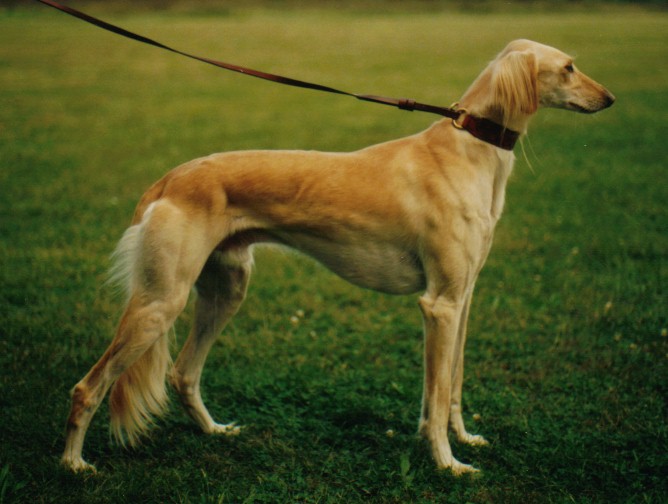 "Hounds sometimes live up to their names, they say. Boss would seem to certify that, as a burst of speed is his forte. On the lure coursing field, while he earned his LCM in relatively limited coursing, he has never shown much interest in turning. We began to think he couldn't. But in the open field on a jackrabbit, he turns like a jack and shows lots of "air" for the long chase. His annual appearances in NM often find him in the ribbons among awesome and experienced competition. Despite living in Michigan, he and his sister Toutsie have both qualified for the Grand Course. A densepack Saluki made of muscle from head to toe, Boss is also a softy at heart and one of the easiest keepers we've ever enjoyed."
Boss is bred, owned and loved by Jack and MaryJane Helder.