Thank you, Zahrah, for being the Amala foundation and our best girl.
You are dearly loved and missed!
On 27 April 2011, we said "good night" to our precious Zahrah as I held her for the last time. Just 17 days after turning sweet 16, Zahrah unexpectedly died. She led a long, lovely, healthy life and was surrounded by her family when she slipped away.

~*~ Multiple National Select CH Shahanshah Invisible Touch, CGC, JC ~*~ 10 April 1995 to 27 April 2011 ~*~


The Amala Z II litter won't be on our site any time soon, due to an elderly pc and other factors. Our four female and three male Z IIs turned 2 on 20 July. Parents of this red sable, black tri-color, gold and cream rainbow are DC Impala Chubasco Toocson CC and Amala Zahleekha abd Shalom, FCh.




UPDATED:
22 AUGUST '11
Much still pending
Please click on dear Zahrah (above) to visit LEXINGTON 2007, click on lovely Zafirah to visit SHOW Zs III, and click on Zayn to view ART WE LOVE.
We hope you enjoy your visit!
p.s.
Dear Amala Z family: If we missed any news of merit for the NEWS page, and I am sure we did, please let me know and it will be added post haste!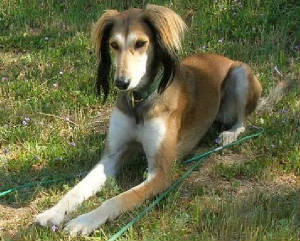 In Loving Memory of Claire
Amala Zerdali, JC
21 July 2002 ~ 21 April 2007
Always in our hearts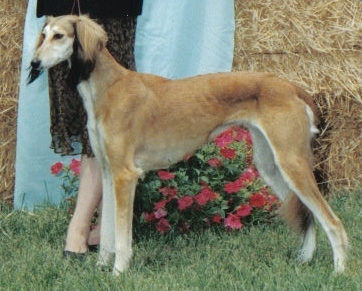 2011: The Z IIs are now 2. The Zs are now 9. Zahrah turned 16. We're excited about the future of our Zs! We delight in the successes and lives of our pups and grandpups (and possible great-grandpups) and Saluki family. Runners, lure coursers, OFC buffs, show dogs, show-offs and dear hearts fill our Z family. We love them all! Thank you for visiting AMALA Salukis. We hope you enjoy your stay!
______________________________
AMALA is Amy L Charles, Zafirah, Zayn, Zada and the presence of our beloved Dusty and Zahrah. AMALA, from the Arabic, means "hopes and aspirations." We aspire to stay true to Salukis and their ancient glory.
Wishing you a wonderful everything,
Zafirah, Zayn and Zada
~*~ In memory of Darrinna A'Faru, JC and CH Shahanshah Invisible Touch, CGC, JC, our beloved and cherished Dusty and Zahrah.

View My Guestbook
Sign My Guestbook






Zayn: Winners Dog / Best of Winners / Best of Breed, Progressive Dog Club of Wayne County, judge Pamela B. Peat. NEW CHAMPION!
25 APRIL 2009
Zayn: Winners Dog, Logansport KC, judge Rita Biddle, Esq.
7 MARCH 2009
Zahli: Winners Bitch / Best of Opposite Sex, Monroe KC, judge Carol Reisman.
28 SEPTEMBER 2008
Zahli: 3rd place, Bred By Exhibitor Bitch, judge Sharon Kinney, Issibaa.
29 AUGUST 2008, HVSC SPECIALTY
Zayn: 3rd, BBE Dog. Zahli: 1st, BBE Bitch. Judge Clair Chryssolor, Anasazi (England).
28 AUGUST 2008, HVSC SPECIALTY
Zayn: Winners Dog, Battle Creek KC, judge Sulie Greendale-Paveza.
12 JULY 2008
Zahrah: 3rd, Veteran Bitch 12+. Zahli: 3rd, BBE Bitch. Judge Karen Fisher, Ruweis (England).
JUNE 2008 SCOA NATIONAL SPECIALTY
Zayn: Winners Dog, Kalamazoo KC, judge James Fredriksen.
10 NOVEMBER 2007
Zahrah: Best in Veteran Sweeps from 12+, judge Anne Vigneri, Abaqero; 1st, Veteran Bitch 12+, judge Alice McDaniel, Pharout. Zayn: 2nd, BBE.
31 AUGUST 2007 HVSC SPECIALTY
Zafirah: 4th, BBE, judge Zafra Sirik (Israel).
30 JUNE 2007 SCOC NATIONAL SPECIALTY