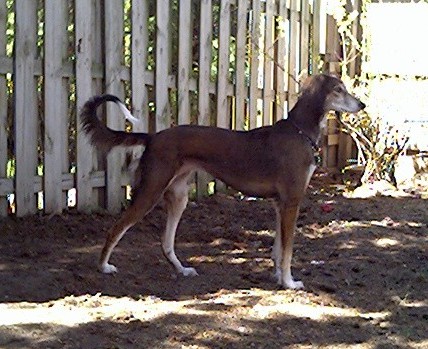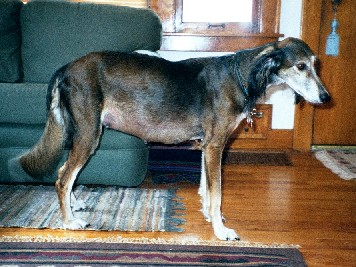 Zahrah is very ready to have her puppies!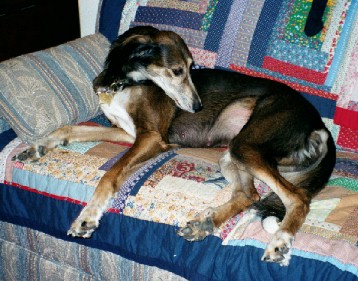 Zahrah, nearly six weeks pregnant, contemplates her puppies while lounging on Boss' sofa during a visit.
Photo taken 28 June, 2002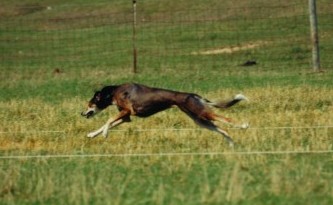 A lithe, lean, limber, lovely Zahrah on the field. This started out a typical Zahrah run: fast, agile, low to the ground...
Thank you to our dear friend Russel Hathaway for this photo, taken moments before Zahrah's complex fracture occurred.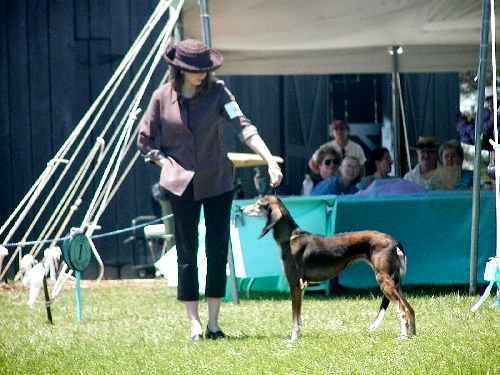 Amy and Zahrah during Best of Breed judging at the 2001
SCOA National Specialty. Zahrah received an Award of Merit
at this Specialty, matching her feat at last year's National.
Thank you Johnathon Wright, for capturing this day on film!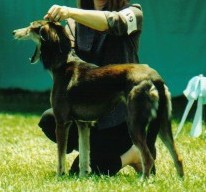 According to Zahrah, thinking about another Award of Merit isn't all that stressful...
We appreciate Russ and his phenomenal timing.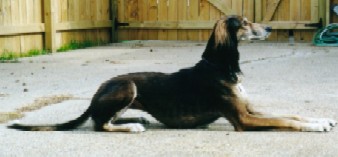 Zahrah contemplating the riddle of the Sphinx...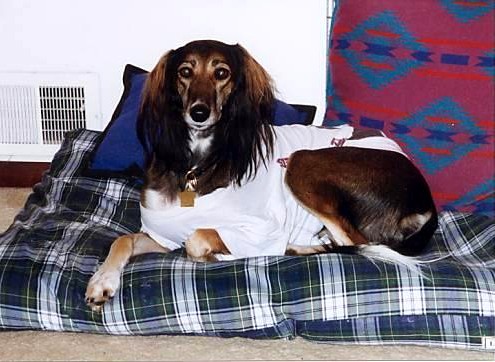 Zahrah, in the Nick Cave and the Bad Seeds "boo-boo tee". The stitches -- and the t-shirt -- survived the week.





Zahrah, 24 hours into stealing anything that was left of my heart... (And she looks so innocent, doesn't she?)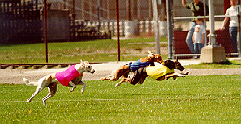 For a brief, shining, glorious moment in time, Zahrah thought it was all right to play fair...
Here she is shown leading - and never falling behind! - in her first Open Stake trial.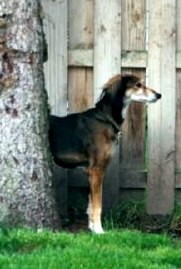 The Zen of Zahrah:

I am a tree.
I am very still.
The squirrels,
they do not
see me.

And then.............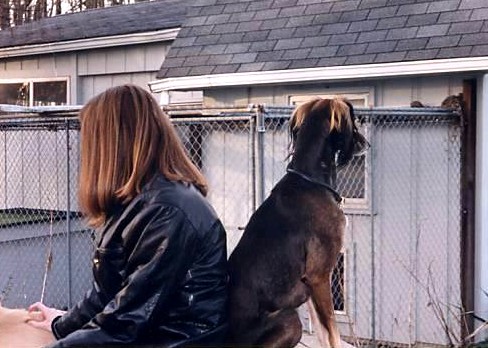 A favorite shot, by a favorite friend. Amy, Zahrah and their "matching fringes".
photograph by Amy Balthrop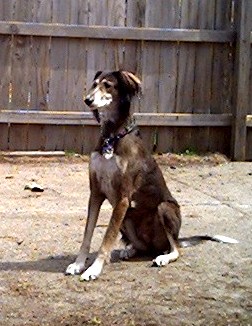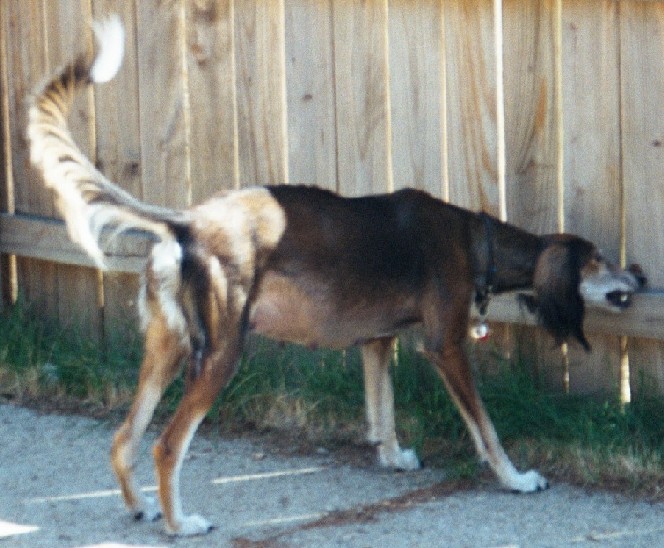 No shrinking violet, Zahrah (60+ days along) gnaws on the fence hoping to intimidate the doggies next door.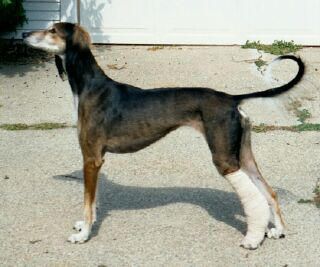 Zahrah, sporting the smallest version of the cast worn for several weeks...
Even with a broken leg, she's still sound, still moderate, still balanced, still ZAHRAH!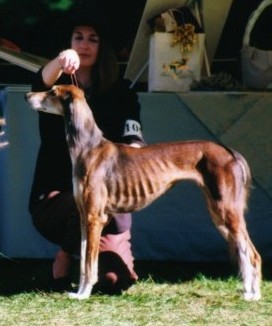 And how smashing would Zahrah look if she wasn't stacked on a slope? Thank you Karen Butler, for a fantastic shot of those shoulders and thighs!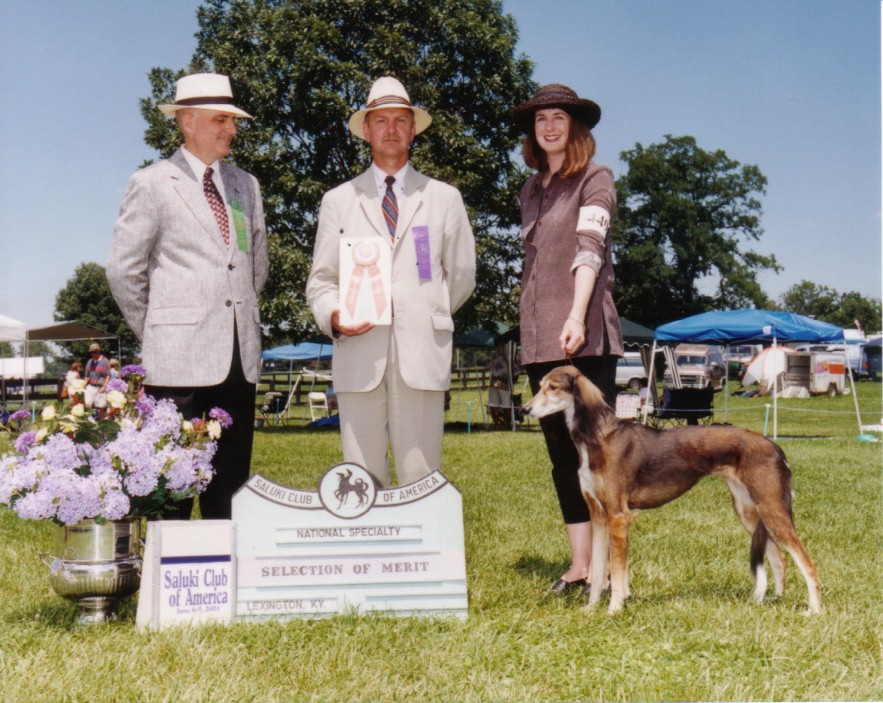 It's official! Zahrah receives her second consecutive National Specialty Award of Merit!
photo: Wilcox Photography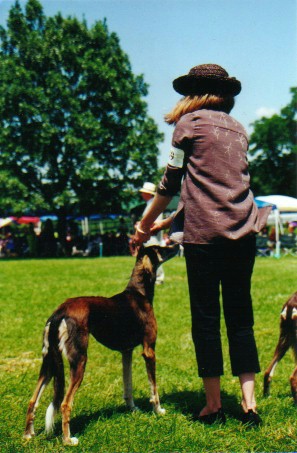 Zahrah and Amy, during the final cuts for Best of Breed.
Thank you, Ellie Case, for this different perspective!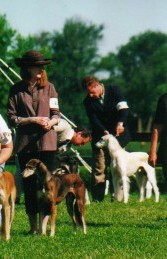 Everyone in the ring, please, to begin Best
of Breed judging.

The start of a lovely day.
Photo by Karen Butler. We wish you could've stayed!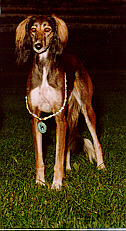 Zahrah's first lure trial: Single Stakes at the 1997 SCOA National Specialty. Zahrah impressed us all with her speed, agility and first-place finish.

Zah!rah!rah!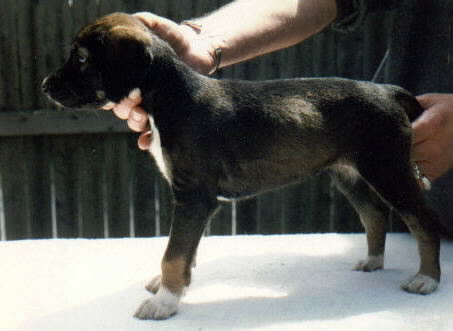 It's five-week-old Baby 'Rah, stacked for the camera.
Even as a baby, the outline is THERE!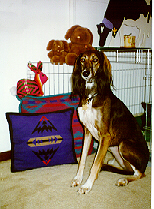 She sits so lovely.
She looks so sweet.

(And she mostly is...)