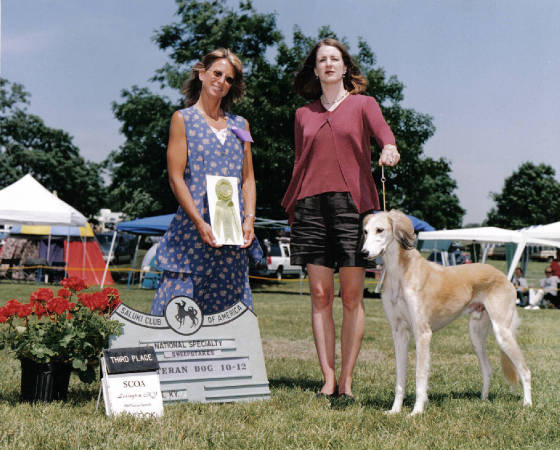 The 2000 Saluki Club of America National Specialty. This is handsome Dusty, in his first show -- at the tender age of 10! Thank you, Karon Mosher, for honoring my beautiful boy on this beautiful day. Dusty took 3rd place with nice competition, and was one of the only non-Champion dogs in the ring. Dusty looks amazingly reserved in this photo. Perhaps it's because he was tired from all that prancing, playing and performing for "his" public! Dusty had a great time in the ring, and increased his fan base enormously after this moment.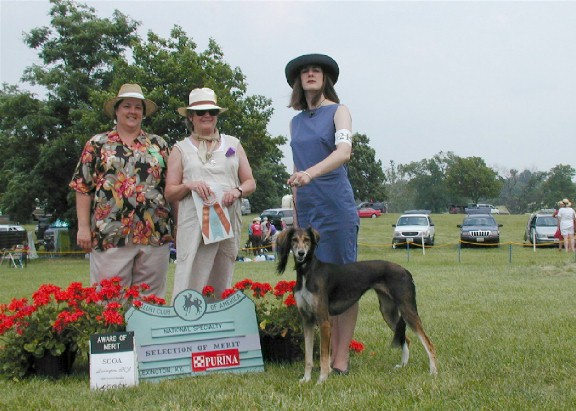 4 June 2000: Zahrah finishes her AKC championship. 11 June 2000: Zahrah receives an Award of Merit at the SCOA National Specialty. Zahrah's first show as a "special" was quite special indeed! Thank you, Dr. Jo-Ann VanArsdale, DVM, for recognizing the quality and moderation of this beautiful girl who never made it to the open fields out west...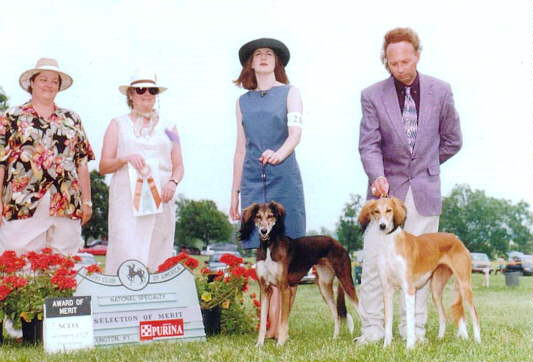 AOM Ch. Shahanshah Invisible Touch CGC JC with AOM Ch. Shahanshah Touched By The Sun. Zahrah and Carly (shown with owner Dennis Schmidt) are littermates, making their Select Awards even more precious. These fine ladies certainly make the "family" proud!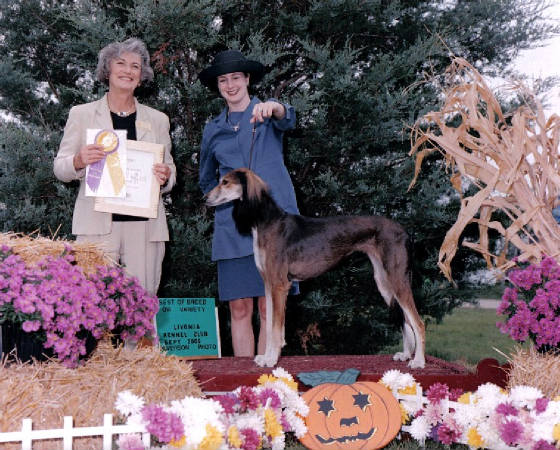 Zahrah and judge Carol Esterkin, at the trophy supported September 2000 Livonia Kennel Club show. Zahrah went Best of Breed over a very nice entry, on a very hot day. She kept her cool, but her handler was starting to wilt...
Thank you for letting us show off for you. Please, visit again! Miss Zahrah's showing off is on hold indefinitely, but you never know when she might be back out there... I hope to eventually have more of Zahrah's "career" on these pages. It's interesting to see how very changed she is since her first show, where she won her first major points.