AMALA ZAFIRAH
The first born of the Z litter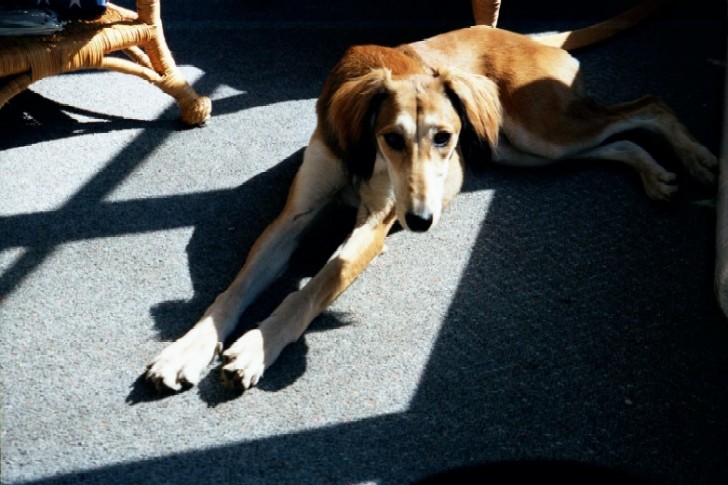 Zafirah entered our world at 10:10 a.m., Sunday, 21 July 2002. She made a vivid first impression, arriving feet first and "talking" within seconds of birth. (She'd already kicked me, as I rubbed Zahrah, the week before.) Eager to determine the lay of the land, 'Firah would not nurse for close to an hour: There was a mommy to climb on, a whelping pool to navigate, legs to try to stand on... She was headstrong and glorious from the moment we met!
Zafirah enjoys people and pups and any- and everything. She has an amazing lust for life. She shares her room with second-born Zayn, constantly reminding him that she was here first. His patience is astonishing at times. Zahli lives an hour-ish away, and the reunions are quite entertaining: 'Firah and Zahli hug and kiss like two little society Ladies Who Lunch. They captivate me.
Zafirah made her AKC debut Memorial Day weekend, 2003, at the West Michigan Apple Blossom Cluster shows in Kalamazoo, Michigan. She then turned her sights to the Saluki Club of America National Specialty, and her debut in Saluki Society. Many were greeted, kissed and charmed by our stunning, stubborn, beautiful young Firah.
If she doesn't respond when you call to her, try Zafearless, Firrari, Firah My Dearah, Curious Georgia, or Little Monkey...